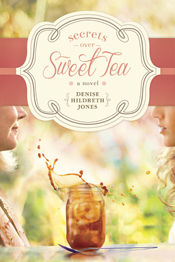 Secrets over Sweet Tea
by Denise Hildreth Jones is the fictional companion novel to her non-fiction book,
Reclaiming Your Heart
. I'll be reviewing that book in the near future, as soon as I finish reading it. But I think it's important for readers to know that the books complement each other. They don't have to be read together, but can be for greater insights into what Jones is trying to teach.
Secrets over Sweet Tea
is a fictional story that helps readers see how the concepts presented in
Reclaiming Your Heart
apply. They get to watch, so to speak, as characters in the book who have chosen to shut down their hearts in defense of this world's pain learn to see how and why they responded the way they did, then how to make things right, reopen their hearts, and really live.
Writers of fiction are taught to show, not tell. Jones is really good at this. Due to the nature of this book, though, she's cleverly included mentors in the story who do quite a bit of telling as they counsel those who've been hurt. These mentors have lessons of their own to learn, too, so we get to see their counselees, who've taken the lessons to heart, turn around and remind their mentors of their own teachings. It's clear that Jones really believes the message she's teaching can help change people's lives for the better. It's one she's learned through personal experience and wants her readers to experience for themselves.
I'll write more about that message when I review
Reclaiming Your Heart
. For now I want to focus on
Secrets over Sweet Tea
, the stories of three people who've been deeply wounded by life and their recoveries in the small Southern community of Franklin, Tennessee. These characters and their friends are amazing—and so is the community. If all the restaurants Jones mentions in this book really exist, I need to go visit that town! I enjoyed the story and its message. I'm happy to recommend this book.
I thank
Reclaiming Hearts Ministries
for arranging to have Tyndale House Publishers send a complimentary copy of this book for my honest review.