It isn't often that I underline great portions of fictional books, but I colored all over this one!
The First Gardener
is a touching story of dealing with grief and learning to live through, with, and in spite of it. It's a story about trusting God when He appears to be out to get you. It's a story about never giving up on the people you love.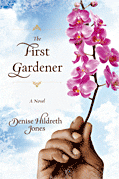 The story itself is told in narrative form. But it begins and contains chapters throughout of the first gardener's thoughts about all that's going on in the Tennessee governor's mansion. Jeremiah cares deeply about the family he serves, prays for them, and ministers as God leads--even when it gets him into trouble sometimes. His words were the ones I spent the most time underlining.
Author Denise Hildreth Jones has a gift for making readers care deeply about the characters in her books. I loved the southern spunk of the first lady's mom and three best friends. I hurt for Gray and Mackenzie as they suffered through all that they did. And I looked forward to seeing which flowers Jeremiah would choose for Mackenzie and what each of them meant. He gave me something new to consider on my personal flower hunts.
If you enjoy tear-jerkers full of profound life thoughts, I recommend
The First Gardener
for you. I thank Tyndale House Publishers for sending it to me for my honest review.